Rancho San Isidro (23,750 acres)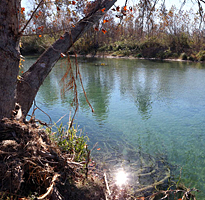 Once a working cattle ranch on part of a 75,000-acre, family-owned property, Rancho San Isidro offers lots of acreage and miles of well-maintained roads. And because hunting has not been allowed on the property for the last 100 years, San Isidro is host to a multitude of large, quality deer with the best possible natural genetics.
Recently at Rancho San Isidro, one hunter was allowed to take one deer. That hunt yielded a 190-class deer. And a very proud hunter.
In addition to multiple ponds and troughs, San Isidro has 2.7 miles of the San Rodrigo river flowing through it. The plentiful water supply makes this ranch a natural attraction for quail, turkey, dove and ducks.
2019/2020 improvements include:
200 miles of improved roads
32 miles of 8-foot-high perimeter game fence
22 planted food plots spread across the ranch
30 in-ground water troughs spread across the entire ranch
15 bentonite-lined water tanks
In 2020, three 225-meter water wells were drilled. Three horse power submersible solar pumps along with 8'x40′ solar panel arrays were installed.
House pad under construction December 2020
Two miles of San Rodrigo River bank have been cleared and manicured
December 2020, 3 miles of 8-inch PVC mainline under construction to distribute water across ranch
2021 – 150-acre pivot to be installed